I'm linking up with Kelsey's 100 Day Hustle. As of Saturday, the 22nd, there are only 100 days left in 2012. Yikes! Her linky should help motivate me to finish my rather ambitious list of projects to be finished.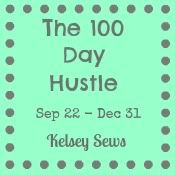 Here's my list...
Need to finish:
Bungle Jungle quilt for baby Will
Fandago star quilt for Pat
Joe's T-shirt quilt
Ghastly project (undecided)
Halloween pot holders (3 sets)
Holiday quilt from last year
Holiday table mat
Would like to finish:
Great Granny quilt
Tote bag for work
Summersville quilt
Based on the amount of sewing I've completed in the last 10 days, I'm probably a bit delusional. I haven't used my machine at all. I managed to accomplish two measly EPP blocks.
I did buy this great Ghastly fabric.
I looked quick at this one and though she was giving me the finger:)
Time to get busy.
jane